Mixed-Technology Lead Free Certification Kit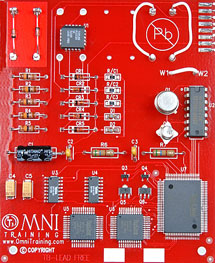 The perfect tool for teaching solder operators and inspectors lessons on lead free soldering. Omni Training, the pioneer of solder training kits, has been supplying the electronics industry with various training PCBs and their components for 42 years. This mixed technology, lead free plated PCB incorporates a wide variety of solder applications including:
Terminal installation
Wires to terminal assembly & soldering
Component to terminal assembly & soldering
Axial & radial leaded components
Dual in-line package & small-outline integrated circuits
Polarity exercises
Wire to through-hole challenges
Wire to surface mount applications
Axial & Tantalum capacitors
Various trace widths exclusively for trace & pad repair
Unsupported, isolated plated-though, & thermally grounded plated-though-holes
TO-5 and TO-18 transistors
Small Outline Transistors (SOT-23s and SOT-89s)
Chips & Cylindrical end caps
Plastic-leaded Chip Carrier (J-leaded, PLCC)
Harnessing
Fine pitch quad flat packs (QFP)
...and more
Please email us at info@omnitraining.com or call (909) 941-9495 if you have any questions or need further details.
PART #
LEAD FREE CERTIFICATION KITS
TK-LEAD FREE
Mixed-technology Lead Free Certification Kit
As we move into lead-free solder requirements, both the inspector & operator will face an adjustment. The inspector will be inclined to reject solder joints that have a different surface appearance or wetting angle, as well as be exposed to new anomalies unique to the lead free solder joint. The operator will have to learn new skills in the time/temperature science and become increasingly aware of soldering iron tip maintenance. It provides just the right amount of work experience in making the necessary adjustments. Let us know if you would like us to help with this simple, but challenging process.