On-Site & Custom Classes
"Skills-intensive" solder training can be held on-site at your location and tailored in length and content to address your unique product and processes. The training can be conducted in accordance with your in-house requirements or the specification of your choice, such as Industry Standards IPC-A-610, J-STD-001, IPC-7711/7721 and/or IPC/WHMA-A-620 (classes 1, 2 or 3).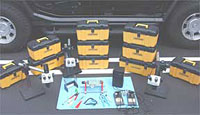 Our training consists of instructor's lectures, and specification/quality requirement reviews. These are driven by projected presentations that coincide with a student Soldering Workbook provided for each student, which was designed exclusively for these types of courses. We are able to bring an assortment of students tools if tool rental is a need.
During the duration of the class, students are shown many photographs from Omni's bank of workmanship photos. Many of these high-resolution photographs have been incorporated into workmanship manuals around the world and are featured in the IPC-A-610 and the new IPC-A-620. Discussion sessions will enhance inspection discrimination skills. Hands-on demonstrations are followed by students' workmanship exercises. A strong emphasis is placed on technique, which is the intent of a "skills-intensive" course. Some classes can utilize closed circuit camera to aid in a close-up view of instructor's demonstrations. Each student can be issued an Omni Training Certificate of Completion.
Click the request info link to receive a prompt, detailed quotation for on-site training. We are experienced with travel to all points within the contiguous United States as well as Mexico, the Caribbean, Canada, South America, Europe and Asia.
On-Site ESD Awareness Training At Your Location

Full or Half-Day Training for all of your employees who handle or simply come in contact with ESD sensitive devices and assemblies. Classes can be customized to address your in-house procedures from the 1.5 hour "Basics of ESD Awareness" to the 3 hour in-depth "Development and Implementation of an ESD Control Program Per ANSI/ESD S20.20" Workshop. Classes can be arranged in any combination to suit your company's needs. Up to four sessions per day with class sizes limited to 40 students per session. Call to discuss details.
Each participant is provided with an ESD Awareness Certificate. The class consists of instructor's lectures, and your company's specification/procedure review. Each element of the ESD Control Program Plan is reviewed and discussed in understandable terms. Demonstrations of ESD control materials and identification of products are made throughout the presentation. Topics of discussion can include: ESD Control Program, Administrative Requirements: Training Plan and Compliance Verification Plan, Technical Requirements: Grounding/Bonding Systems, Personal Grounding, Protected Areas, Packaging, Marking, Equipment, Handling and Sensitivity Testing. Each attendee will be better equipped to design and implement their own in-house ESD Control Program.